Contegra Ranks in Top 150 Privately Held Companies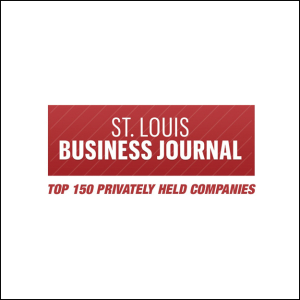 March 25, 2016  |  If you ask Brad Barnard, one of the owners of Contegra Construction, why 2015 was such a successful year for the company, he'd tell you it was a perfect mix of customer satisfaction and the dedicated work of his employees. That mix resulted in $135 million in revenue in 2015, up from $79 million in 2014.
"We hire people that have extensive resumes and very strong skillsets for different types of work," he said. "And when we have that, clients look for specific employees they've worked with in the past because they've built that relationship already."
When Contegra was founded in 2003 by Eric Gowin, it was mainly a distribution center builder, but that changed about six years ago when Gowin brought on partners with specialties that complemented his, said Barnard.
"This allowed us to diversify and we were able to competitively bid for other opportunities," Barnard said.
The company now takes on retail, residential, wastewater and water treatment and education projects, among others.
In 2015, Contegra worked mostly on industrial and commercial projects, including completion of a new 202,895-square-foot Menards store in St. Ann. Other completions in 2015 include projects for Procter and Gamble and World Wide Technology, although Barnard can't reveal what they were.
Contegra began a 220,000-square-foot residential project in April 2015 called the Bramblett Hills, in O'Fallon, Missouri, which includes 17 three-story buildings. The company is in the process of completing a $63 million retail development in Richmond Heights that includes a Menards store. Contegra also is currently working on a large distribution center, called Gateway Commerce Center 717, in Edwardsville.
In addition to World Wide Technology and Menards, Contegra's other clients include Walgreens, and Lewis and Clark Community College.
Barnard said the company is projecting revenue to increase slightly in 2016, but it will include more of the same projects. The company has four primary owners, Eric Gowin, Brad Barnard, Russ Henke and Dennis Araujo, but hopes to extend some ownership opportunities to the next generation of leaders at Contegra soon.
Article courtesy of St. Louis Business Journal