Spotlight on Southwestern Illinois Commercial Contractors: Contegra Construction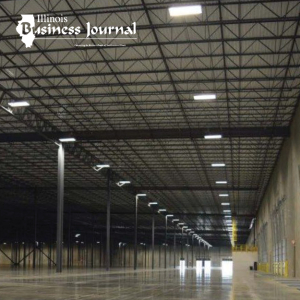 April 10, 2016  |  Located just south of New Poag Road in Edwardsville, the Gateway East 717 Distribution Center is the first speculative warehouse structure built on the east side of Illinois 255. Construction began back in June 2015 and was substantially complete in January 2016.
Contegra Construction Co. of Edwardsville has served as the development's general contractor.
The property's developer, TriStar Properties, selected Gray Design Group Inc. of St. Louis as the architect for the project. Propper Construction Services, another partner in the development,
has provided construction management. Other partners included leasing agent Cushman & Wakefield and the private equity firm of Pacific Coast Capital Partners.
Bobby Klucker, Contegra's project manager, pointed out that the unique elements to this speculative warehouse, compared to others, that was used on the Gateway East 717 building was all concrete pavement on its exterior and a 36' clear height. He also pointed out the biggest challenges were that of amenities, access and the weather.
There were no existing utilities or infrastructure to build upon at this site. Added to that was the heavy rain received back in June which only allowed for three days of work on the project, with 20 days lost. Yet the six-month schedule still prevailed.
The 717,060-square-foot facility is on a 76-acre site with 36-foot-height clearance capabilities. A concrete tilt-up distribution facility with 80 truck docks, it features a heat reflective and energy efficient thermoplastic polyolefin roof and design/build mechanical, electrical, plumbing and fire protection systems.
Gateway East 717 is expandable to more than 1.2 million square feet. Its construction has opened up an additional 700 acres of the 2,300-acre warehouse and distribution park for development.
Article courtesy of Illinois Business Journal