Contegra Ranks 89 in Top 150 Privately Held Companies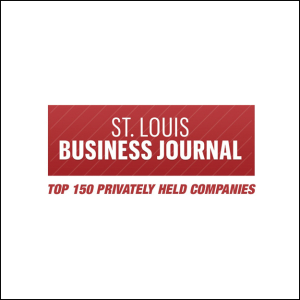 March 27, 2017  |  The continued growth at Contegra has landed the company at the 89th spot of the Top 150 Privately Help Companies in St. Louis. The article in the St. Louis Business Journal can be seen below. You can also see the article on their website here.
Contegra Construction was able to grow its revenue from $135 million in 2015 to $223.1 million in 2016 due to the expansion of its industrial sector and by focusing its efforts on a growing need for manufacturing and industrial distribution warehouses in the region, according to Eric Gowin, a primary owner of the company.
"We targeted large projects with national developers," Gowin said. "We also completed large multi-family projects both locally and on a national level, which significantly increased our revenue."
In 2016, Contegra completed a large distribution center, called Gateway Commerce Center 717, in Edwardsville, Illinois. In addition, Contegra completed work on a 717,000-square-foot fulfillment center for Amazon in Edwardsville. Gowin declined to share the cost for either project.
Contegra also completed a 220,000-square-foot residential project called Bramblett Hills, in O'Fallon, Missouri, which includes 17 three-story buildings. Gowin declined to provide additional details.
Contegra also completed a $13 million project for the Metropolitan Sewer District, that included replacing scrubbers in two MSD wastewater treatment plants at Bissell and Lemay.
In 2017, the company will work on an expansion for Kuna Food Service in Dupo, Illinois; a new Bob's Discount Furniture store in St. Ann, Missouri; and a redevelopment of the old Northwest Plaza property.
The Northwest Plaza property redevelopment includes 371,000 square feet of new retail building construction and a renovation of 807,000 square feet of existing space.
The company has four primary owners, Eric Gowin, Brad Barnard, Russ Henke and Dennis Araujo, but hopes to extend some ownership opportunities to the next generation of leaders at Contegra in the near future.
Add any jobs in 2016? Added one project executive, one project manager, three project engineers, two in administration and one superintendent.
Adding any jobs in 2017? One project engineer and one superintendent.
Local employees: 76
Total employees: 78
Leadership: Eric Gowin, primary member; Brad Barnard, Russ Henke and Dennis Araujo, members