St. Louis Contractors, Fabricators Join Effort to Reshore US Manufacturing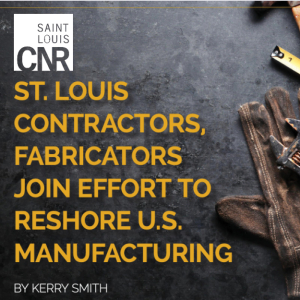 March 22, 2023  |  Reshoring manufacturing – bringing back operations to the U.S. from countries abroad – continues to accelerate as more domestic manufacturers and fabricators ramp up their operations to meet construction demands in St. Louis and beyond.
Sixty-two percent of U.S. manufacturers surveyed said they've begun reshoring or near-shoring their production capabilities. The survey more than 300 executives at transport and manufacturing firms with annual revenue of $500 million to more than $50 billion.
While reshoring has been a topic in discussion in the manufacturing sector for years, the pandemic and its supply chain bottleneck aftermath propelled U.S. manufacturers and fabricators of all shapes and sizes to rethink strategies for adding production capacity. Deloitte predicts this shift could reduce the share of Asia-originating shipments to the U.S. by 20 percent by 2025 and by 40 percent by 2030.
Additional factors influencing the reshoring trend, according to the report, are the exponential increase in e-commerce, geopolitical pressures, export restrictions and a spike in robotics and automation.
The CHIPS and Science Act – enacted in August 2022 – is also spurring U.S. construction of semiconductor manufacturing. The legislation is pumping $280 billion into boosting domestic research and manufacturing of chips across the U.S.
In Missouri, GWC's new MEMC (motion, estimation, motion, compensation technology) line at its O'Fallon facility is one example. Through a supply agreement totaling $800 million, GWC's silicon-on-insulator wafer manufacturing operation is producing thin slices of semiconductor used to make solar cells and integrated circuits. Public and private sector entities are helping fun the operation.
In another show of support toward bringing more manufacturing back on U.S. ground, St. Louis-based contractors are traveling the country to build manufacturing plants that are evidence of the trend to keep production in the U.S. One such firm is Edwardsville-based Contegra Construction. The contractor, celebrating its 20th year in business, renovated a 527,000-square-foot manufacturing facility near Columbus, Ohio for American Nitrile, manufacturer of medical and research lab gloves for health care, government and industrial usage. Contegra Chief Operating Officer Jim Mundy says the firm paired with IMEG to construct and equip a highly complex automated manufacturing process to support 12 production lines. American Nitrile projects manufacturing four billion gloves annually, keeping its customers from being dependent on Malaysia and China for these personal protective products. More than 90 percent of these gloves are produced in Asia, Mundy says, and yet the U.S. consumes more than 70 percent of them.
"We've been involved in a fair number of manufacturing project through the years," said Mundy. "The technology that goes into these builds is incredibly advanced."
Construction of metals and metal coating facilities across the region and the Midwest continues to keep Contegra busy. In late 2022, Contegra completed a 53,000-square-foot expansion of Precoat Metals' Granite City-based Midwest Metal Coatings plant, one of its two manufacturing hubs in the city. Precoat Metals, the largest independent metal coil coating maker in North America, needed the extra space to store the heavier steel and keep pace with increased demand for heavy-gauge steel. Mundy said [that] Contegra was recently awarded another similar plant expansion project in Washington, MO that is expected to break ground soon.
Fabrication operations are also a major component in the effort to reshore manufacturing. Jeanine Engle is market leader at Hillsdale Fabricators, Alberici's steel fabrication division that has been in operation since 1958. Engle says the company is in an intense hiring phase to support the structural steel and industrial ductwork fabricator and erector at its St. Louis facility and still had to turn down massive orders.
"There's a big push for EV (electric vehicle) battery centers and they have significant steel demands," Engle said. "These are typically large mega-projects built by contractors who are seeking to buy out tens of thousands to hundreds of thousands of tons of steel. At a time of peak demand, Hillsdale was already fulfilling enormous orders and was approached to supply 200,000 tons of steel for a battery project. We had to pass because we were already at capacity and were book with another large project."
In this season of strong demand for steel fabrication, contractors are commonly trying to procure steel tonnage from multiple erectors and fabricators to get all of the material they need for a mega-job, Engle notes. "We sometimes team with key partners and other U.S. fabricators in order to fill the order," she said.
Hillsdale's full-time procurement manager focuses solely on order material and building relationships with steel mills, warehouses and supplier[s] to make sure the division is able to meet its customers' needs. "One example of the challenge we have recently faved in this industry is specific to joist and deck," said Engle. "We don't fabricate this, but we procure in conjunction with our fabricated product. The wait times are critical. We're in constant contact with our suppliers to stay on top of the lead times."
Hillsdale's yard has 60 acres devoted to storage, should a customer decide to order raw material in advance of projected price spikes or supply chain uncertainty, to keep the construction project on schedule. "In total since 2020, we have saved clients $2 million when we're brought into a project early on," Engle said. "When there's a large level of trust and teamwork between the construction manager, design team, owner and us, we're able to be fully transparent in our processes to give them the best value."