Pedal the Cause: Safety Joe Helps Edwardsville Firm Employees Create Safe Environment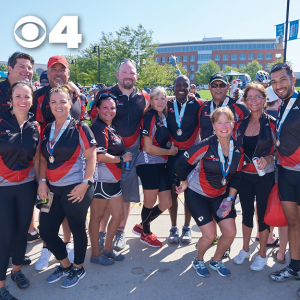 September 2019  |  As we countdown to this year's Pedal the Cause in September, News 4 is introducing a key player simply known as "Safety Joe."
Safety Joe hangs out near the break room in the office of Contegra, a construction firm in Edwardsville.
Team Captain Jim Mundy says Joe "is a way to demonstrate the safety attire that we train our employees to wear on a project site."
But these days, he has been sporting a new look.
"He's in a jersey, he's part of our ride team," said Mundy.
That would be their corporate challenge team with Pedal the Cause, an event that raise money for cancer research.
Three years ago, the team started with about 6 people but now that has nearly triple with a team of 34.
According to Mundy, he says the corporate team building and camaraderie is what made it grow so quickly.
"Our team rides and training rides a couple of times a week and our company really gets into it. We've got spouses that ride, children that get involved," he said. "So it's just a good peer group. We get together, we get fit and it's for a good cause."
Team member Sheri Herzing said she knew she wanted to be a part of the environment quickly.
"After the first year when everyone came back and talked about it, I wanted to be a part of the environment. It sounded like a great time for a great cause," said Herzing.
Introducing another key player, Dennis Araujo claims the title of the team's top fundraiser.
"I lost a father-in-law to cancer, and my son-in-law lost he grandfather to cancer, said Araujo.
He says raising money for Pedal the Cause was actually pretty easy.
"The secret to raising money is asking somebody. I think people wanna help," he continued.
The bottom line for the Contegra team,including Safety Joe, can be best summed up by Araujo.
"It's satisfying that you know you're going out and doing something that's doing good for the community and those that are out there fighting the fight," said Araujo.
To help raise money for cancer awareness, Pedal the Cause will be on Sept. 28 – 29. For more information, click here.
Article courtesy of KMOV (Meredith Corporation)