General Contractor Named for Expansion That Would Double Manufacturer's Space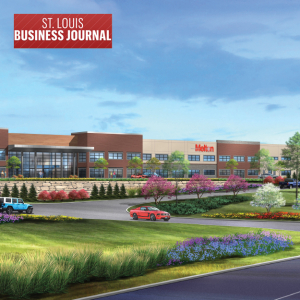 July 25, 2019  |  Edwardsville-based Contegra Construction is building Melton Machine & Control Co.'s new headquarters and manufacturing facility in Washington, Missouri, that's expected to come online next year.
Melton Machine's new campus on 42 acres at Heidmann Industrial Park includes a new 367,000-square-foot facility that more than doubles its existing footprint. Melton Machine manufactures automated robotic welding equipment mostly for the automative industry, and is one of Washington's biggest employers. Cost on the project was not disclosed.
It was reported last year that Melton Machine was planning an expansion of its headquarters, though the exact details and general contractor were not known at the time.
The manufacturing facility includes three overhead bridge cranes, paint booth, wash bay, extensive power distribution, compressed air and welding gas loop piping and flex drops for specialized automated arc welding machine product testing and fabrication areas. The office component comprises a two-story boardroom, conference and training rooms, and a catering prep and break area.
Contegra's sitework included 290,000 cubic yards of rock blasting to ready the area for an additional 225,000-square-foot expansion sometime in the future. Details on that project were not available.
Melton Machine and its subsidiary, Computech Manufacturing Co., employ nearly 200 people. Melton plans to hire an additional 20 with the expanded operation.
Melton Machine & Control Co. Expansion
General contractor | Contegra Construction Co.
Design | Gray Design Group, Washington Engineering & Architecture
Engineering | 21 Design Group, Case Structural Engineering, Wiegmann Associates, RJP Electric, Heggemann Plumbing, Bi-State Fire Protection
Article courtesy of St. Louis Business Journal