Missouri's Wapelhorst Aquatic Center Awarded 2019 Dream Design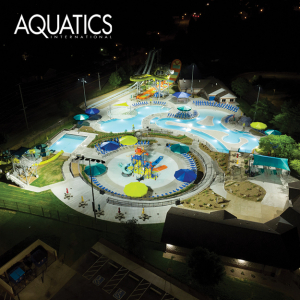 July 30, 2019  |  Through this renovation, the design team provided a modern-looking family aquatics center using existing grade changes to create visual interest and provide natural separate to the various activity clusters.
The city facility gained several new attractions so it could serve as the community waterpark. A 3,500-square-foot children's pool features a large, multilevel aquatic play structure. A 4,900-sq. ft. leisure pool is enhanced by a large, shaded water lounge. The 5,600 sq. ft. lazy river contains a beach entry and underwater seating alcove. Body flume water slides drop into a dedicated 1,100 sq. ft. plunge pool.
Significant elevation changes throughout the site were used to compose dramatic views and define zones. The site includes more than 15 feet of drop from an overlook elevation at the main entrance, so visitors can see across the shallow play areas to the lazy river and water slide features below. The body flume water slides are incorporated into a hillside. To control the grade changes, the team incorporated a combination of keystone retaining walls and landscape elements.
For the color scheme, the designers selectively chose hues that would blend and contrast with the environment. The natural blues and greens of the shade canopies visually connect with the pool water and landscape, while vibrantly colored water slide flumes and play structures provide pops of color.
Construction and Design Team
Architect | Davis & Davis
Landscape Architect | Kimley-Horn & Associates
Aquatic Designer/Consultant | Counsilman-Hunsaker
General Contractor | Contegra Construction Co.
Pool/Spa/Waterfeature Contractor | Capri Pools & Aquatics
Others | Kimley-Horn & Associates; Davis & Davis; The Core Group; Engineering Associates
Suppliers
Circulation System/Gutters | Sea-Rite, Neptune-Benson
Controller/Control System | BECS Technology
Guard Chairs/Safety Equipment | Spectrum Aquatics
Interactive Waterfeatures | WhiteWater West, Aquaclimb
Pool Cleaner | Duramax
Pumps | Grundfos
Racing Lines | Competitor
Slides | WhiteWater West
Springboards | Durafirm
UV Systems | Engineered Treatment Systems