Chicken Salad Restaurant Sets Opening for First Metro East Location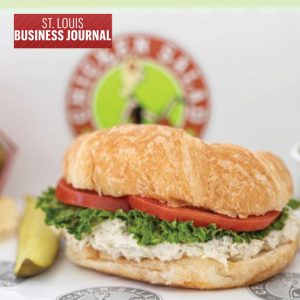 June 12, 2019  |  Chicken Salad Chick, a fast-casual chicken salad restaurant, is expanding its St. Louis-area footprint with the June 26 opening of its Edwardsville location, and a second Metro East store is planned for 2020.
The new Chicken Salad Chick location is at 2323 Plum St. in Edwardsville, part of Contegra Construction Co.'s new $6 million IronWorks retail development. IronWorks' first tenant, Sugarfire Smoke House, opened last week, and will be joined this summer by Strange Donuts and Global Brew Tap House.
Chicken Salad Chick's Edwardsville store is the first in Illinois for the Auburn, Alabama-based chain, which bills itself as "Southern-inspired." The chain is known for offering a dozen varieties of made-from-scratch chicken salad daily, along with salads, soups, sandwiches and desserts.
The chain entered the St. Louis-area market this year, with the opening of company-owned Chicken Salad Chick restaurants in Chesterfield in January and in Creve Coeur in April.
The IronWorks location is owned and operated by Edwardsville resident and franchise owner Hannah Lukowski of SJ Restaurants LLC, which also operates three St. Louis-area Firehouse Sub locations. Lukowski told the Business Journal that central Illinois residents Brad and Lisa Mazanek are silent partners in the chicken-salad venture. The franchisees plan to open another Chicken Salad Chick location in O'Fallon, Illinois, next year.
Lukowski said she's hiring about 40 workers for the 3,000-square-foot Edwardsville location, which will offer giveaways and specials during its grand opening June 26-June 29. The store will be open Monday through Saturday, from 10 a.m. to 8 p.m.
Chicken Salad Chick's Edwardsville store accommodates 110 diners, including indoor and outdoor patio seating. The signature line of chicken salads also is available for grab-and-go carryout. While it does not have a drive-thru, it will offer an inside private dining room that seats about 30. "It's a great place to hold an afternoon business meeting," Lukowski said. "Not a lot of restaurants have that."
Lukowski said she and her investors put about $600,000 into the Chicken Salad Chick venture, including franchise fees and build-out of the Edwardsville location, which was done by St. Louis-based Superior Building Group.
"As a mother to a beautiful baby girl, with my second child on the way, the brand's values really resonate with me and I'm proud to bring this concept to Illinois," Lukowski said Wednesday in a statement.
Lukowski said she's working on a lease for the O'Fallon, Illinois, location to open in 2020, in a strip center development near Greenmount Road and Central Park Drive. "Further development definitely is possible," she said of her Chicken Salad Chick franchise.
Illinois is the 15th state for Chicken Salad Chick, which had revenue of $110 million in 2018. The company was founded in Auburn, Alabama, in 2008 by Stacy Brown, and in 2015, Eagle Merchant Partners purchased a majority stake. The company, led by CEO Scott Deviney, now has 124 restaurants.
Article Courtesy of St. Louis Business Journal