Barbecue Restaurant to Open at Edwardsville's IronWorks Project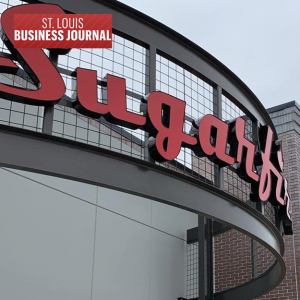 May 28, 2019  |  Sugarfire Smoke House will open its 13th location at 2323 Plum St. within Edwardsville's new IronWorks development June 5. The barbecue restaurant will be the first tenant to open inside Contegra's development. The development will also include Strange Donuts and Global Brew.
"Edwardsville is such a great town and it continues to grow," Matt Martin, co-owner and operator of Sugarfire, said in a statement. "The people around town are so nice and genuine — from the locals to the university staff — we have felt so welcomed since exploring for locations. We believe that everyone in Edwardsville will really appreciate what we bring to the table."
Sugarfire founders Mike Johnson and Charlie Downs will join forces with St. Louis natives Martin, Doug Lang and Jim Cook to grow Sugarfire to the outer Missouri and Illinois markets, officials said.
The 4,500-square-foot space can seat close to 125 guests, with 85 seats in the dining room and an additional 40 on the courtyard patio. Sugarfire will share the patio with neighbor Global Brew.
Customers will be greeted with a "shake & beer" bar where they can order brews, shakes and sodas before entering the ordering queue. The 360-degree bar is constructed from a shipping container, a first for any Sugarfire location, officials said. Glass mosaic flames by local artist Red Keel, hand-painted signage from Phil Jarvis and reclaimed materials from St. Louis' Reclaim Renew will be featured throughout. A floor-to-ceiling "drip wall" by Kentucky artist Ami Beckman also is included inside the space.
The Edwardsville restaurant's menu will be consistent with other locations. Illinois native Rob Range will spearhead the kitchen. Range previously worked at Sugarfire's Valley Park location. Jeff Riggle will serve as sous chef, Zachary Johnson will lead front-of-house staff, and Tyrone Wells will serve as pastry chef.
The restaurant will be open seven days a week from 11 a.m. until it sells out.
Sugarfire also has locations in Olivette, St. Charles, Valley Park, O'Fallon, Washington, Farmington, Cape Girardeau and downtown. It also has locations in O'Fallon, Illinois; Indianapolis; Union, Kentucky; and Westminster, Colorado. Johnson also owns and operates two Hi-Pointe Drive-In locations, one in downtown St. Louis and the other on McCausland Avenue.
Article courtesy of St. Louis Business Journal