Patton Highlights Employees, Progress in State of City Address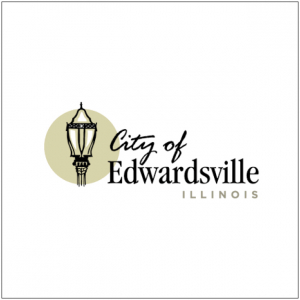 May 9, 2019  |  Edwardsville Mayor Hal Patton gave the annual State of the City address during the city council meeting Tuesday. This year's theme was to recognize new employees.
The city has hired more than 50 new employees since November 2017 and Patton read off their names.
"We really got some quality hires," Patton said after reading off a list of names. He recognized and thanked employees in various departments and committees for their efforts over the past fiscal year, including retirees such as Tim Harr and Dennis McCracken, former city administrator and former city clerk, respectively.
"It's an honor to serve with you and watch what you do for the citizens of this community," Patton said.
All of the city's aldermanic committees were juggled for the new fiscal year Tuesday. In addition, all appointed officials will return for the new year.
Patton highlighted some of the new businesses that are open or coming into town — Mod Pizza, HomeGoods, Smoothie King, BJ's Printables, Freddie's steakburgers and Kyoto Steakhouse in Timberlake Village. He mentioned TownePlace Suites, the new hotel that opened this year near the Edwardsville High School, a rebuilt McDonald's on Route 157 and many others.
Due to the combination of TownePlace Suites and a Starbucks, Patton praised public works for thinking ahead.
"We knew this intersection was going to be busy; our public works department got out ahead of that congestion and traffic and put in an additional turn lane," Patton said.
Other developments that came to the area within the past 12 months include ArchView Flooring, Charles Schwab, Painting with a Twist, Trusty Chords, Edgewild, World Finance and the Pilates-Barre Studio.
The TorHoermann Law Offices on South Main are new and Patton announced Matt Pfund is planning a multi-story building behind the law offices with retail and apartments or condominiums above it.
Turning to the Gateway Commerce Center, Patton described World Wide Technology's (WWT) recent investments in the city's industrial park.
"WWT will be moving into those two buildings; two million-square-feet and I think 700 or 800 workers between the two facilities," he said.
Eric Gowin, founder and managing member of Contegra Construction, received the Businessman of the Year Award.
WWT, Ironworks and Richland Residential are just three of Contegra Construction's projects in the area, Patton said.
"If you add up those totals, it was $100 million just by Contegra Construction last year. So I told Eric at the breakfast this month, that he set the bar; if anybody wants to be Business of the Year, they have to do $100 million worth of construction."
Patton said he knows SIUE professors and people near retirement age who are no longer able to or are no longer interested in maintaining a yard but who are interested in Whispering Heights.
"They are looking for some nice, new construction with high-end sinks and countertops and all the amenities that come with these new buildings," Patton said.
He mentioned the coming demolition of the former public safety building and he displayed a rendering of its replacement, Gori Julian's new law offices on North Main, a $16 million project, and he showed designs of possible new, three-story parking garages that may total $8 million.
"We're also looking at downtown parking options," Patton explained. "These are a couple of ideas that we've sketched. We're working with the business owners downtown and this is going to be one of the projects we work on with SIUE."
On Liberty Street, a new 97-space parking lot would be city-owned and should be great for the future growth of North Main, he said.
Last fiscal year, the city had $247,984,052 worth of construction versus $102,809,879 the year before.
Patton touched on life-saving efforts made by Edwardsville Police Officer Conor Hoyland, who saved the life of an employee who had been run over by a forklift at one of the warehouses in the Gateway Commerce Center and received a life-saving award from the Southern Illinois Police Chiefs' Association. Police Chief Jay Keeven became treasurer of the Southern Illinois Law Enforcement Commission.
Patton listed more than 10,500 extra police safety checks at residents' requests, more than 3,300 subdivision checks, almost 700 school checks and about 8,300 business checks.
The city's fire department has been training and improving their skills and teamwork, too. Patton highlighted trench rescue classes, important for a city that is growing and in the midst of street, water and sewer replacement projects.
In addition, the current public safety building has a training tower built-in, enabling officers to sharpen their rappelling and hoisting skills while on the job.
Two firefighters completed the basic training academy; six are working on bachelor's degrees; Lt. Rodney Hall was chosen to receive the Firefighter of the Year award while firefighter Mike Schonlau was selected as Paramedic of the Year. Both men were selected by their peers for these accolades.
A total of 157 residents have been trained in Stop the Bleed measures while 153 residents have been trained in CPR, AED and first aid techniques.
There were about 3,100 fire calls for service last year, 150 car seats put in, 300 business inspections, 17 school inspections including Lewis & Clark Community College and Edwardsville High School.
The parks department came in for accolades for its master plan and the public engagement efforts it made last year to gauge residents' interest in various outdoor and arts activities.
"I learned a lot by it. We have a lot of people in the community that are very interested in the arts and what different things are done in terms of community involvement," Patton said.
The Wildey Theatre has become a beacon for the city, with total attendance for the theatre and event center at 42,846 people. The number of patrons buying movie tickets, excluding free events and $2 films, equals the approximate 2010 population of the city, 26,621.
A total of 44 out of 60 concerts sold out last year, 49 of 91 events sold out and the theatre drew patrons from 34 U.S. states, the United Kingdom and Germany.
The Schwarz Dog Park has proven popular, especially since it's an off-leash park, Patton said. He said about 70 percent of area households have pets.
There are five unisex restrooms at City Park powered by solar energy without the need for portable toilets on nearby streets.
The Edwardsville/Glen Carbon Community Pool had more than 8,300 users last year, 39 memberships, 813 SIUE students, 207 swim lessons and 1,755 rentals.
Patton said youth softball (273 players) and sand volleyball (306 players) as recreational activities have really taken off with area teenagers. Patton said he believes there is a waiting list of seven teams to get into this year's group at Hoppe Park.
Article courtesy of The Edwardsville Intelligencer