New Facility Will Serve Donco's Fleet Maintenance Needs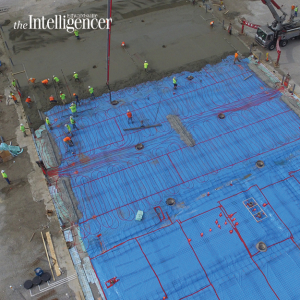 August 26, 2019 | Robust growth in utility meter service and gas distribution construction is prompting Donco, LLC to build a new shop maintenance facility to more efficiently serve its customers.
Donco has tapped Contegra Construction Co. to build a 21,500-square-foot maintenance and office facility at Lake Front Parkway in Edwardsville. The building will emerge from the ground in September but already, specialized radiant heat flooring is being installed. Contegra is targeting an end of year completion for the building.
"As Donco and our customers continue to grow, so does our fleet of vehicles and specialized equipment," said Candice Fowler, Donco president and owner. "This expansion will allow us to provide a wide array of services to minimize the total life-cycle cost of vehicles and equipment, while improving efficiency and reducing downtime for our workforce."
Donco's service fleet consists of more than 200 vehicles. It serves customers in Illinois, Missouri and Wisconsin.
A key feature of the maintenance facility is the 4,000 linear feet of hot water piping embedded in the floor of the maintenance zone to efficiently provide radiant heating. The pre-engineered metal structure building will feature insulated tilt-up panels and a metal roof. It will be accessed via 10 large overhead doors.
Donco's fleet will be maintained in eight service bays equipped with engine diagnostics and drop hoses for venting exhaust. The building also features an infrared-heated wash bay. The building includes 3,000-square-feet of office space and a mezzanine storage area.
Donco has more than 300 employees in five divisions: metering and gas construction services, electrical design (Utility Design Services), information technology (Fowler Technology Services) and management services (Fowler Management Services). For more information about Donco, LLC go to https://donco.co/.
Joining Contegra on the project are JF Electric, Icon Mechanical, Bergmann-Roscow Plumbing, Kane Fire Protection, Keller Construction, Federal Steel and VeeJay Cement Contracting.
Donco, LLC is a woman-owned firm serving Illinois and the Greater St. Louis metropolitan area.
Article courtesy of The Edwardsville Intelligencer