Contegra Participates in Pedal the Cause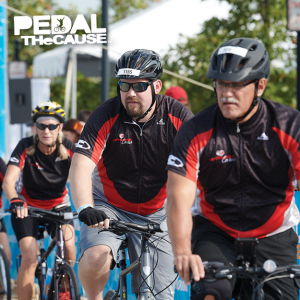 September 2019  |  On September 28th and 29th, bikers from all over came out to St. Louis to participate in Pedal the Cause. Pedal the Cause is a great program with 100% of all donations going directly to cancer research at the Siteman Cancer Center and St. Louis Children's Hospital.
The Contegra Cares team came out to ride, volunteer and cheer on riders. This is the third year Contegra has participated in the race as a corporate team.
"We are proud to be among the top 50 corporate teams that were a part of Pedal the Cause" said team captain Jim Mundy. The team grew from five riders to over forty!   Araujo, one of the riders, said "It is exciting to see our team come together for such a great cause."
This is the ninth year riding with PTC for team captain Jim Mundy.
When asked why Jim rides, he responded, "I have several friends close to me who are fighting the battle with cancer. I have also lost dear friends and family so I want to contribute to finding a cure."
The turnout for the big event was wonderful. All together the Contegra Team has raised over $32,000.00 for Pedal the Cause, with a lifetime total of over $61,000.00