Contegra Puts Finishing Touches on Shiloh Multifamily Development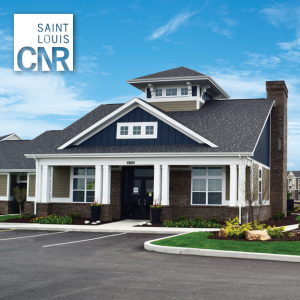 August 8, 2019  |  Edwardsville-based Contegra Construction Co. is wrapping up construction of Phase I on the 17-acre development known as Thirteen01 Hartman Lakes, a large apartment community at 1301 Hartman Lane in Shiloh, IL.
The site is located at the northwest corner of Hartman Lane and Frank Scott Parkway, approximately 3.5 miles west of Interstate 64.
Contegra Project Manager Cory Parker said the $27 million project for owner/developer Greenmount Retail Center, LLC broke ground in March 2018 and is on schedule for all nine apartment buildings to be completed by October.
"The first three apartment buildings opened in April," Parker said. "Contegra established the schedule to intentionally complete and turn over the buildings in phases. On average, we turned over one building every six weeks. They're leasing them up building by building, which is going extremely well."
A total of 216 units – both one-bedroom and two-bedroom – comprise Thirteen01 Hartman Lakes. Each of the nine buildings is three-story and features upscale features including balconies (on floors two and three), luxury vinyl plank flooring, granite countertops, stainless steel appliances, in-unit laundry rooms and 60 of the units offer detached garages.
Contegra also built a clubhouse with a 24-hour fitness room, a resort-style pool and a patio space featuring gas grills and a fire pit. A walking trail and two lakes with fountains are additional amenities to the development.
The nearly completed construction represents phase one of what will likely be a multi-phase project to include villas. Contegra's scope of work is specifically phase one, Parker said.
Construction and materials-related project challenges, he said, included tight materials laydown areas and coordination of construction traffic as progress continued while the first residents were living on site. Noise mitigation was also a key priority for Contegra, Parker said. "Most of our subcontractors purchased their materials in bulk to save on cost but leased storage space nearby and delivered the materials at the point they needed them to save space at the construction site. "With each apartment building we completed, the job site shrunk by that amount," he added. "We've had to work smart on-site and through all logistical aspects of the project." Paving the site as they built each successive building was another strategy Contegra and its project partners employed.
The property is being leased and managed by St. Louis-based 2B Residential.
Article courtesy of St. Louis Construction News and Review