Diode Dynamics' Expansion Gives Office Employees a Window Over the Assembly Line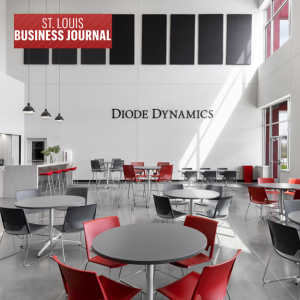 May 23, 2022  |  An automotive lighting manufacturer has opened its new office and manufacturing facility in St. Charles, expanding and moving operations from St. Louis County.
The new 70,000-square-foot facility for Diode Dynamics, on a 9-acre site at 3870 Millstone Parkway in the Fountain Lakes Commerce Center in St. Charles, gives the company modern office space and an expansion of its manufacturing capacity. The company designs, manufactures and distributes aftermarket LED lighting for vehicles.
Construction was finished in April by Edwardsville-based Contegra Construction.
Diode's 90 existing employees moved to St. Charles from the company's facility in Earth City, with plans to add 36 new positions over the next five years. The company was founded in 2006 in Earth City and leased two buildings there.
Increased demand for Diode's products required a manufacturing expansion to support that growth, the company said in a news release. The new building includes a showroom, two drive-in engineering bays, a 15,000-square-foot electronics manufacturing area, an engineering laboratory, a 37,000-square-foot warehouse that is 30 feet clear in height, and an 18,000-square-foot, two-story office space. The new facility could double in size if needed in the future, the firm said.
The multistory design of the new office space with mezzanines overlooking the manufacturing facility allows the company to promote better interaction among its employees, CEO Paul McCain said in the release. The manufacturing space is visible from the second-floor boardroom, and the 2,500-square-foot break room has floor-to-ceiling overlook windows into the factory.
Article courtesy of St. Louis Business Journal