Contegra Wraps Up Diode Dynamics HQ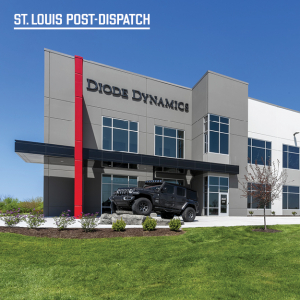 May 20, 2022  |  Contegra Construction completed a new 70,000-square-foot headquarters and manufacturing facility for Diode Dynamics in St. Charles.
The facility is located at 3870 Millstone Parkway in the Fountain Lakes Commerce Center.
Diode Dynamics, which designs, manufactures and distributes automotive LED lighting, is relocating from Earth City. The firm currently has 90 employees and expects to add about 36 new positions over the next five years.
The new facility features a showroom, two drive-in engineering bays, an electronics manufacturing area, engineering laboratory, 30-foot clear height warehouse, and a two-story office space.
Joining Contegra on the project were Remiger Design, BAX Engineering and SSC Engineering. Subcontractors included Kaemmerlen Electric; O.J. Laughlin Plumbing Co., Inc.; Wiegmann Associates; and Bi-State Fire Protection Corp.
Article courtesy of St. Louis Post-Dispatch