Construction Underway On One of St. Louis Region's Largest Warehouses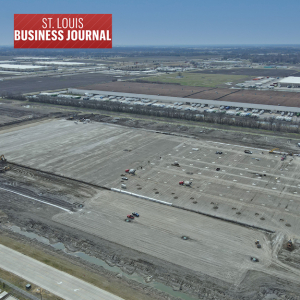 April 6, 2022  |  Construction is underway on one of the St. Louis region's largest speculative warehouses, a building that could expand due to growing demand in the industrial market.
Global real estate firm EQT Exeter is developing a warehouse with 800,000 square feet of space in the Gateway Commerce Center in Edwardsville, with construction scheduled to finish by fall. The only larger speculative warehouse being built in the region is a 1 million-square-foot warehouse from NorthPoint Development, also located in the Metro East industrial park.
The new spec warehouse, at 5710 Inner Park Drive, is the second in a pair of warehouses commissioned by EQT Exeter and built by Edwardsville-based Contegra Construction. The first warehouse, at 5715 Inner Park Drive in Gateway Commerce Center, measured 674,000 square feet and is now fully leased.
EQT Exeter Regional Investment Officer Ben Haas said the company is hoping to lease the entire new warehouse to one tenant, but it also could be divided into smaller blocks of space or expanded to 1 million square feet if a user had the need.
"There's just a kind of insatiable appetite amongst tenants for this type of space, and a flight to quality to try to get into the most modern buildings with the most modern features and clearance heights, and all that is beneficial to a warehouse user," Haas said.
The new warehouse is EQT Exeter's seventh in Gateway Commerce Center, adding to the company's local real estate after acquiring the entire Duke Realty St. Louis industrial portfolio last year. The other six buildings are fully leased and total 3.25 million square feet, Haas said.
The latest building completed and the new warehouse under construction were part of one of the largest industrial portfolio sales in U.S. history last November, a $6.8 billion deal with more than 70.5 million square feet assembled from more than 100 transactions over three years. EQT Exeter sold the portfolio on behalf of its EQT Exeter Industrial Value Fund IV to an undisclosed, newly formed global partnership.
According to Madison County records, a transfer, valued at $56.5 million, of the 800,000-square-foot warehouse was made to Pennsylvania-based DEV Property II LLC, and a transfer, valued at $54 million, of the previously constructed 674,000-square-foot warehouse was made to Pennsylvania-based Pool 5 Industrial IL LLC. After the transfers, EQT Exeter is still part owner and leases and manages the properties, Haas said.
Construction on the new spec warehouse will consist of tilt-up concrete panels, with 146 dock doors and four drive-thru doors, Contegra said in a news release. A specialized HVAC system with multiple exhaust fans will optimize the recirculation of fresh air in the facility every hour. With 3,300 square feet of office space, the warehouse will have parking for 206 trucks and 538 cars.
If the warehouse isn't expanded, that unbuilt space could allow for more truck or car parking for the building.
So far, the soil at the site has been stabilized and graded for construction. The next major step for the building's construction is pouring the slab, Haas said.
The Illinois submarket had an industrial vacancy rate of 4.6% as of the fourth quarter, while the overall region had vacancy of 3.8%, according to Gershman Commercial Real Estate. The submarket recorded positive net absorption — the difference between the amount filled and the amount vacated — of 443,046, which was half of the entire region's 823,385 square feet of positive net absorption.
Exeter Property Group was acquired last year by EQT AB, a Stockholm private equity firm, for $1.9 billion. EQT Exeter has over 300 million square feet across 1,500 buildings under management. The company acquires, develops, leases and manages logistics, office, life science and residential real estate properties, operating in 45 offices across the Americas, Europe and Asia.
Article courtesy of St. Louis Business Journal