KIDstruction Week is an opportunity for the St. Louis regional architectural, engineering and construction industries to join together to support St. Louis Children's Hospital's mission: "to do what's right for kids." Funds raised help Children's Hospital fulfill its promise of providing a superior patient experience through such programs as music and art therapy, pediatric neuro-critical care, the hospital's Family Resource Center and sibling playroom and the Healthy Kids Express mobile health vans.
KIDStruction Work Results 2017
On behalf of St. Louis Children's Hospital patients and families, thank you for the support to KIDstruction Week! We are proud to announce KIDstruction Week 2017 has raised $405,000.
 This year, 153 companies participated with more than 2,500 trades workers and employees who donated $1 for every hour worked during KIDstruction Week in August. Check out the full list of companies.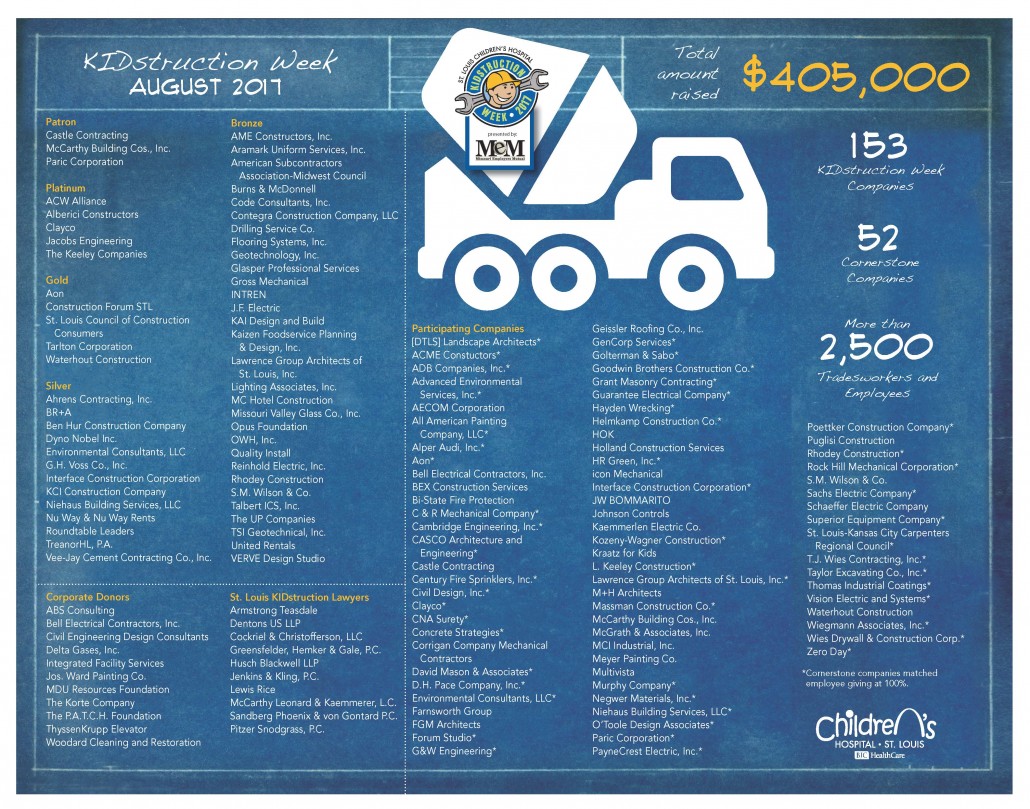 "KIDstruction Week is a tremendous effort by the St. Louis construction community," says Malcolm E. Berry, chief development officer, St. Louis Children's Hospital Foundation. "Just as companies across the region build the future of St. Louis, they help us build momentum for the transformation of child health. We are honored and humbled that these hardworking men and women have chosen to join us as Guardians of Childhood."
 Again, thank you for your sponsorship support and we hope to see you all again in 2018!
 The 2017 KIDstruction Week Committee,
 Chair: Jeff Faust, Environmental Consultants, LLC
 Angelo Arzano, HOK; Renee Bell, Waterhout Construction; Tom Finan, Construction Forum STL; Dean Foth, S.M. Wilson & Co.; Bob Fritz, Clayco; Brad Gross, Gross Mechanical Contractors; Brian Hayden, Hayden Wrecking; Jared Hites, McCarthy Building Cos., Inc; Todd Janson, HRP Associates; Patrick Kozeny, Kozeny-Wagner Construction; Rich Ledbetter, Round Table Consulting; Phillip Lee, Alberici Constructors, Inc.; Taylor Mason, David Mason & Associates; Kelly Pimmel, Forum Studio; Mike Rallo, Jr., Paric; Aaron Retherford, Castle Contracting; Kevin Suiter, Murphy Company; Matt Taylor, L. Keeley Construction; Stephanie Woodcock, Seal the Deal Too.