Contegra Builds 1.1M SF Distribution Facility in Missouri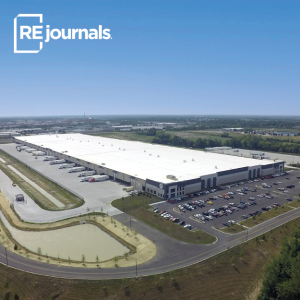 August 9, 2017  |  A massive 1.1-million-square-foot logistics center in Wentzville, Missouri, is now serving the nearby General Motors Corp. assembly plant. Built by Edwardsville, Illinois-based Contegra Construction Co., the multi-million-dollar facility was built for developer NorthPoint Development.
Located on a 132-acre tract at 201 Wentzville Industrial Drive, the facility serves as a logistics optimization center for the GM plant. TVS Supply Chain Solutions operates the facility.
The seven-month project was constructed with a conventional steel frame, metal frame roof and site-cast tilt-up concrete panel walls. It features a 32-foot clear height ceiling, 168 dock doors and six drive-in doors.
"Contegra did a great job managing the schedule overcoming a record rainfall that deluged the region as construction was getting underway," said Larry Lapinksi, vice president, NorthPoint Development, in a written statement.
The project is among 14 logistic facilities in the Metro St. Louis area that Contregra is currently building or has completed in 2017. Since 2014, Contegra has performed work on 20 logistics projects in the region, including two fulfillment centers for Amazon and a number of distribution and warehouse facilities.
Article courtesy of REJournals