Contegra Targets Spring 2024 Completion for AZZ Precoat Metals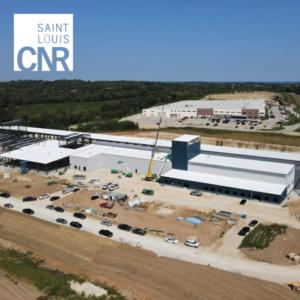 September 19, 2023  |  Contegra Construction Co., one of St Louis' largest general contractors, is building a 220,00-square-foot production facility in Washington, Mo. for AZZ Precoat Metals, North America's leading independent metal coil coater.   Contegra is scheduled to complete the building in spring 2024. Production equipment will be installed in the second half of 2024 with production anticipated to commence in 2025. Precoat Metals' production expansion will meet increasing demand for coated aluminum coils slit to custom widths and will augment the firm's current production capabilities for customized steel, aluminum and galvanized metal coils used in containers,buildings, housing, automobiles, product storage, appliances, HVAC and more.  Located at 901 Waterman Drive, Precoat is the first tenant to emerge in the new 115-acre Oldenburg Industrial Park in Washington.  The plant will employ approximately 88 once production commences in 2025.
The project taps Contegra's design/build services.  The firm is currently engaged in pouring interior and exterior slabs and performing steel erection. The facility will be under roof by the end of summer.  Among the most challenging aspects to date has been blasting rock to create a 40-foot-deep pit that will be used in the process of slitting coils to custom widths.
The pre-engineered building will host a 212,000-square-foot production zone and 8,000 square feet of office space.  The production zone will be served by three 30-ton overhead cranes and advanced equipment for preparing, coating, slitting, and packaging aluminum coils.
The facility will feature eight loading dock bays and six drive through bays.
Joining Contegra on the project are Vision Electric, electrical; Jarrell Mechanical Contractors, HVAC; O.J. Laughlin Plumbing Company, Inc., plumbing; and Musselman & Hall Contractors, concrete.
Contegra previously built a 53,000-square-foot expansion at PreCoat's MMC Granite City production facilities growing the operation to 143,000 square feet of processing and storage space.
Texas-based AZZ Inc. acquired Precoat Metals for $1.28 billion from Sequa Corporation in May 2022.  For more than 60 years, AZZ Precoat Metals has offered a full array of customized metal coil processing.  It serves its customers in strategically located production facilities in 10 states. For more information, visit www.precoat.com.
AZZ Inc. is the leading independent provider of hot-dip galvanizing and coil coating solutions to a broad range of end-markets.  Collectively, the company's business segments provide sustainable, unmatched metal coating solutions that enhance the longevity and appearance of buildings, products and infrastructure that are essential to everyday life.
Based in Edwardsville, Ill., Contegra is one of the St. Louis area's largest general contractors and serves a national customer base that includes industrial, institutional, municipal, multi-family, office and retail projects.  Its capabilities include building developer- and owner-driven projects and site development.  Learn more at www.contegracc.com.