Contegra Starts Construction of 1M SF Inland Port 9 in Edgerton, KS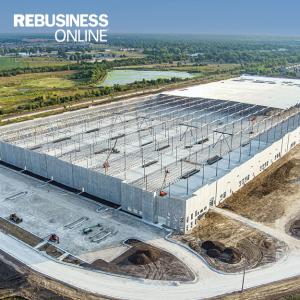 September 15, 2023  |  Contegra Construction Co. has started construction of Inland Port 9, a 1 million-square-foot distribution center located in the Kansas City suburb of Edgerton. NorthPoint Development is leading the the project, which is situated within Logistics Park Kansas City (LPKC), a 3,000-acre, master-planned development that was launched 10 years ago.
Inland Port 9 will feature a clear height of 40 feet, 100 dock doors and four drive-through doors. The building will also include flexible space for a single tenant or multiple tenants with options for office space. The facility includes eight make-up air units and exhaust fans, as well as 14 high-volume, low-speed fans for continuous air circulation. Parking will be available for 479 cars and 352 trailers. The project is scheduled for completion in February 2024.
LPKC is a rail-served facility approximately 25 miles southwest of downtown Kansas City. The park currently hosts more than 14.4 million square feet of industrial space and has the capacity for a total of 30 million square feet. BNSF Railway's intermodal facility anchors the property.
Inland Port 9 will be the second distribution center that Contegra has built at LPKC. The company previously constructed an 850,000-square-foot project for Northpoint Development at the park.
The Kansas City metropolitan area is a key logistics hub for automotive supplies, distributors and third-party logistics, according to CBRE' 2023 analysis of the market. Kansas City's central location gives it access to 85 percent of the U.S. population in two days. The city is bisected by four major U.S. interstate highways and has low traffic congestion. The Kansas City International Airport moves more air cargo than any other airport in the six-state region. Additionally, the city is located on the Missouri River, the largest navigable inland waterway in the nation.
Contegra Construction Co. is based in Edwardsville, Illinois, and builds industrial, institutional, municipal, medical, multifamily, office and retail projects. Northpoint Development is a Kansas City-based real estate development firm with a portfolio of industrial and multifamily properties.