Scotts Miracle-Gro Building 1.3M SF Distribution Center Near Marysville HQ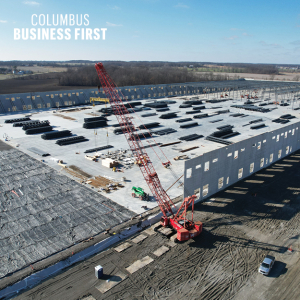 April 24, 2023  |  Scotts Miracle-Gro is building a 1.3 million-square-foot distribution center near its Marysville headquarters.
The company, which manufactures and sells lawn, garden and pest control products, is developing the massive facility on an 84-acre site at 12575 Industrial Pkwy. The property is located about 2 miles from its global headquarters and primary manufacturing plant at 14111 Scottslawn Road in Marysville, and is near another distribution center Scotts will continue to operate.
The building will include 10,000 square feet of office space, with the remaining 1.29 million square feet to be utilized for product storage. Products will be stored up to 40 feet high, which is the new standard specification for regional and national distribution storage space, according to a press release. The facility also will include 120 dock doors, more than 230 trailer parking spots and on-site scales.
The project will create between 40 and 50 new jobs, Scotts Chief Communications Officer Tom Matthews said. The company hopes to fill those positions this summer, and will perform direct hiring rather than contracting through third-party providers.
Scotts is investing $2.9 million into the project. That investment is primarily tied to equipment, furnishings, security, IT and other elements necessary to operate the facility, Matthews said. The project also received a property tax abatement and a roadwork grant to help defer costs.
The distribution center will combine five locations Scotts utilizes for warehousing across Central Ohio, including facilities in Reynoldsburg, Delaware, West Jefferson, Marion and Ontario. Matthews said these sites are operated by third-party logistics providers, so the company did not own or lease them. Scotts' warehouse handling agreements with these companies are expiring, so Matthews said the time was right to launch a new distribution center to complement their existing operations.
"We're working to optimize our entire supply chain network to ensure we're operating as efficiently as we can," Matthews said. "We're looking at our footprint nationwide and saying, 'how can we maximize savings, efficiencies and productivity?' This is part of our larger work along those lines."
The project aims to reduce trucking and the use of fossil fuels, while also adding new capacity and distribution capabilities for Scotts. That will include increased efficiencies within the company's distribution tactics.
"This project is one of our key optimization initiatives," Matthews said. "We're investing for immediate efficiencies and accommodating future growth."
The distribution center is being developed by Crawford Hoying, which had Scotts in mind when purchasing the land. Scotts will lease the space from the developer, Matthews said.
Crawford Hoying worked with commercial real estate finance company Walker & Dunlop to fund the new build-to-suit industrial building. The transaction for Scotts was brokered by Phil Pelok and Joe Kimener of CBRE.
Contegra Construction is building the facility, which is about 70% complete. It is expected to open this summer.
"We are absolutely thrilled to help Scotts Miracle-Gro Company simplify and expand its supply chain capabilities through our development of this highly efficient, modern distribution center," Crawford Hoying Development Principal Nelson Yoder said in the release. "This massive project represents another big win for the Columbus region."
Scotts Miracle-Gro Co. (NYSE: SMG) is one of the 10 largest public companies in Central Ohio, according to Columbus Business First research. The company does approximately $3.9 billion in sales, making it one of the world's largest marketers of branded consumer products for lawn and garden care.
In addition to its Scotts, Miracle-Gro and Ortho brands, the company owns Hawthorne Gardening Company, a provider of nutrients, lighting and other materials used in the indoor and hydroponic growing segment.