A Key Tool for Making Sure PPE Reaches Healthcare Providers Quickly? Reshoring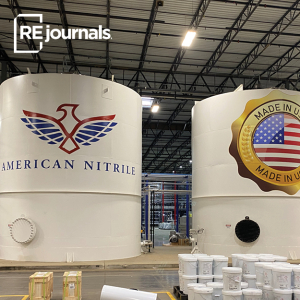 February 16, 2023  |  Manufacturers learned a big lesson during the COVID-19 pandemic: They couldn't make all their products overseas and expect them to arrive fast enough for U.S. consumers.
That's especially true for those companies manufacturing healthcare products. During the early days of the pandemic, the country's over-reliance on supply chains that led through foreign countries made it difficult for medical personnel to receive the personal protective equipment, or PPE, that they needed to safely treat patients infected with COVID.
That's why many companies are making a shift: They are locating more of their manufacturing operations in the United States. This trend, known as reshoring, is providing another boost to the already strong industrial commercial real estate sector in the United States.
A good example? American Nitrile, a manufacturer of medical gloves, made the decision to move more of its manufacturing operations back to the United States. That has resulted in the renovation of a 527,000-square-foot warehouse in Grove City, Ohio, at 3500 Southwest Blvd. in the Columbus market.
Contegra Construction Co., which has offices in Edwardsville, Illinois, and St. Charles, Missouri, handled the renovation work to create a manufacturing facility that will produce 4 billion medical research lab gloves each year.
The big question? Will more companies reshore their manufacturing centers back to the United States, and will this continue to have a positive impact on the U.S. industrial sector?
More reshoring on the way?
"From our standpoint, we are seeing a fair amount of opportunity in the construction sector for light-manufacturing projects," said Jim Mundy, chief operating officer of Contegra Construction. "With the supply chain difficulties we encountered during the pandemic, it makes sense. You can improve the flow of products into the marketplace if you manufacture them domestically. We are starting to see more opportunities from a construction standpoint with reshoring product that has historically been produced overseas."
An example? Contegra recently kicked off a $30 million reshoring project for a manufacturing facility in Washington, Missouri.
"More of these types of projects are being planned," Mundy said. "We are going to see a lot of additional manufacturing associated with electric vehicle and battery production. That is becoming more prominent in what we do. We build a lot of distribution and logistics warehouses. The users of those warehouses are supportive of reshoring jobs, creating additional jobs in the United States."
A big job
During the repurposing of the Grove City, Ohio, warehouse for American Nitrile, Contegra and engineering firm IMEG needed to boost the building's infrastructure so that it could support a complex automated manufacturing process with 12 production lines.
What did that entail?
Water system upgrades to support the robust water demand needed to make gloves.
Installing a new wastewater treatment system and sanitary sewer upgrades including a multi-pump lift station to treat and discharge wastewater.
Engineering and installing a new electrical service with multiple substations to power the advanced manufacturing process.
Installing exhaust fans in conjunction with supply air fans capable of five air changes an hour to stabilize temperature and humidity in the facility.
Installing two large air compressors and air piping for the production process.
Contegra also provided 15,000 square feet of remodeled office and lab space.
American Nitrile is a Grove City, Ohio-based company that manufactures medical and research/lab gloves for healthcare, government and industrial users. Jacob Block founded it in 2021 to meet the need for domestic sources of manufacturing of critical PPE products.
Was reshoring a trend before the pandemic hit? Mundy said that he hadn't seen nearly as much of a desire from companies to move their manufacturing facilities back to the United States before COVID-19 arrived.
And Tony Uzzo, project manager with Contegra Construction, said that the supply chain logjams during the start of the pandemic were the impetus for today's reshoring push.
"The American Nitrile project was absolutely in response to the pandemic," Uzzo said. "There is no question that they went for this project as a way to make sure they could get their products to U.S. users as quickly as possible."
Why reshoring is needed
The numbers show why reshoring the production of medical gloves has been so necessary. According to American Nitrile, the United States consumes about 60% of all nitrile gloves produced globally, but less than 1% of these gloves are produced in the United States.
The global manufacturing of these gloves is based in Malaysia, China and Thailand. The COVID-19 pandemic showed just how risky this arrangement is, exposing a vulnerability in the supply chain of the PPE needed in the United States.
Why was the Grove City location a good fit for American Nitrile? Mundy said that by retrofitting an existing facility, American Nitrile was able to move into the new space quickly. Building a new production facility from the ground-up would have taken far longer, he said.
"That helped with speed-to-market," Mundy said. "This was an established building with an established infrastructure and an accessible workforce in the Columbus area. That was important for American Nitrile. That was a big part of why the company chose this location."
This didn't mean, though, that the American Nitrile project was a simple one. As Uzzo says, the upgrades needed to transform the facility into manufacturing space were complex.
First, the facility needed an upgrade to its electrical system. The building had 2,000-amp electrical service, but American Nitrile needed 16,000 amps of electricity. That entailed the installation of four 4,000-amp substations.
Contegra also had to increase the building's two-inch domestic water pipes to six-inch supply lines to accommodate the 100 million gallons of water a year that American Nitrile needed to support the production of its medical gloves.
The upgrade also required a larger sanitary system powered by a new 10-inch sewer line, Uzzo said.
Supply chain issues were challenging, too. The design of the renovation kicked off in May of 2021. When Contegra placed an order for the electrical switchgear required for the manufacturing facility, the construction company discovered that this material now had a lead time of 30 weeks, which would push Contegra past its delivery deadline.
To overcome this hurdle, Contegra relied on rented switchgear to help power the production lines while construction crews waited for the arrival of the project's permanent equipment. Some of those permanent switchgears arrived as late as December of this year.
"Now, all the permanent switchgear is in place," Uzzo said. "Everything for the production lines is on-site and installed."
Article courtesy of REJournals