Contegra Construction, One of St. Louis' Largest Construction Firms, Transitions to Full Employee Ownership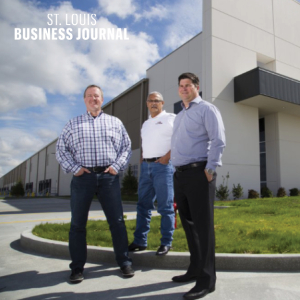 February 17, 2023  |  One of the region's largest construction companies has transitioned to an employee-owned company.
Contegra Construction, based in Edwardsville, has finalized the sale of the company to an employee stock ownership plan, commonly referred to as an ESOP, the company said in a news release.
Details of the financial transaction surrounding the ESOP were not disclosed.
The company was founded with a single construction trailer in Edwardsville 20 years ago by CEO Eric Gowin, and has since been owned by a group of employee shareholders, a spokesman said.
The sale of the firm to the ESOP allows all full-time employees to share in ownership, the company said. Contegra has more than 100 employees.
One of St. Louis' largest general contractors with a nationwide customer base, Contegra specializes in the industrial, commercial and institutional construction markets, especially distribution and manufacturing fields in the wake of growth in e-commerce. Contegra has built 15 million square feet of distribution facilities in the last three years, according to the release.
The company saw its highest year of revenue in its history in 2022, with $440 million, a spokesman said.
Leadership of the company had discussed implementing an ESOP for years and thought the time was right to take that step, Gowin said in a statement.
"Given the overall health of the business and our strong project backlog, it was time to fortify momentum and reward our employees for consistently putting clients first in everything they do," the CEO said.
Gowin will continue to serve as CEO, and other executives will continue to serve in their roles, the company said. That includes Chief Operating Officer Jim Mundy, project executives Russ Henke and Dennis Araujo and Chief Financial Officer Sean Ketcherside.
"As an employee-owned firm our clients can expect even more dedication to their success while also improving the recruitment and retention of professionals who will have a more personal stake in Contegra's bright future," Mundy said in a statement.
Prairie Capital Advisors Inc. of Oakbrook Terrace, Illinois, facilitated the creation of Contegra's ESOP, the company said.
Contegra has completed construction projects in 27 states. Locally, Contegra has constructed about 80% of the warehouses and facilities at the region's largest industrial park, the 2,300-acre Gateway Commerce Center in Edwardsville. It has also built four of the warehouses at the neighboring 600-acre Gateway Tradeport in Pontoon Beach. The company has also been working on Westport Commerce Center in Maryland Heights.
Other markets where Contegra is active in industrial projects are Columbus, Ohio, and Kansas City.
On the manufacturing side, Contegra's most recent facilities built have been for LED auto lighting manufacturer Diode Dynamics in St. Charles; rebar manufacturer Nu Way Cos. in Troy, Illinois; Precoat Metals in Granite City; and American Nitrile in Grove City, Ohio.
Article courtesy of St. Louis Business Journal