Contegra Completes $26M Speculative Distribution Center at Gateway Commerce Center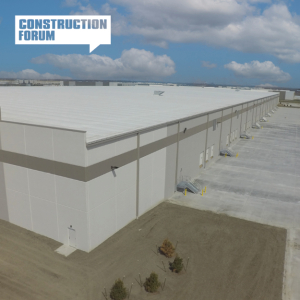 May 14, 2018  |  Contegra Construction Co. has a completed a new 593,940-square-foot speculative distribution center at the 2,300-acre Gateway Commerce Center near Edwardsville, Ill. The $26 million project was built for Earth City-based TriStar Properties and PCCP, LLC, a national real estate finance and investment management company.
Located on a 54-acre site, the distribution center dubbed Gateway East 594 is a tilt-up concrete, cross-docked facility with 36-foot clear-height ceilings, 570 feet of depth and 66 dock doors plus two drive-in doors.  Built with flexibility in mind, the building is expandable to approximately 1 million square feet.
The distribution facility adds to the 18 buildings totaling more than 15.2 million square feet at Gateway Commerce Center.  Contegra has built more than six million square feet of those projects. Gateway East 594 is the fifth distribution facility jointly developed by TriStar and PCCP at Gateway Commerce Center.
Ed Lampitt, SIOR, CCIM and managing director of the St. Louis office of Cushman Wakefield, the exclusive leasing agent for Gateway is handling leasing for the building.  He may be reached at 314-746-0346.
Gateway Commerce Center tenants include Amazon, Dial Corp., GENCO ATC, GEODIS, The Hershey Company, Ozburn-Hessey Logistics, Proctor & Gamble, Save-A-Lot, Saddle Creek Logistics Services, D.B. Schenker Logistics, DB Schenker, Schneider National, Unilever, USF Logistics, Walgreens, World Wide Technology and Yazaki of North America.
Joining TriStar and Contegra on the project are Gray Design Group, architect; and Stock & Associates Consulting Engineers, Inc.; civil engineer.
Based in Edwardsville, Ill., Contegra is one of the St. Louis area's largest general contractors and serves a national customer base that includes industrial, institutional, municipal, multi-family, office and retail projects.  Its capabilities include building developer- and owner-driven projects and site development.
Article courtesy of Construction Forum St. Louis