Contegra Construction Busy with Regional Developments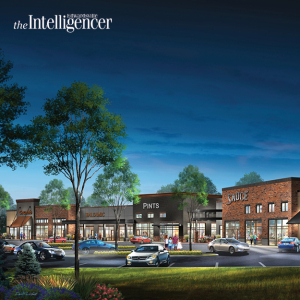 September 24, 2018  |  This has been a busy year so far for Contegra Construction.
The company, which has offices at the Gateway Commerce Center in Edwardsville, has had its hands in several local construction projects recently including a retail center that houses a Japanese restaurant, a multi-use housing project down the road from it and a massive expansion at the Gateway Commerce Center.
"We've had a lot of great opportunities," Contegra Project Executive Jim Mundy said. "We've been fortunate. We've had a lot of things going on. We're happy to be a part of Edwardsville's growth."
The most visible Contergra project, though, may be the Ironworks development at the south end of town, where Strange Donuts, Sugarfire Smoke House, and Global Brew plan to set up shop early next year. But other projects are moving ahead as well. In March, Contegra started construction on Timberlake Village, and last week one the tenants, Kyoto Sushi Steakhouse, opened for business at 441 Illinois 157.
Kyoto takes up about 7,000 square feet of space at Timberlake and Mundy said the developer has been working with a chiropractor who has shown an interest in moving in to the remaining 3,000 square feet.
On New Poag Road, workers are still working to build the "Reserve" student housing complex. The complex, Mundy said, will have nine apartment buildings, a clubhouse and a swimming area. "We just opened the clubhouse this (last) week," he said. "They have a temporary certificate of occupancy, so they could begin to set up a leasing office." The complex abuts the Bohm Nature Preserve.
The city of Edwardsville has purchased 71 acres of land adjacent to the property and intends to create the William C. Drda Nature Preserve.
Developers hope to have the "Reserve" filled with students by August of 2019.
Just down the road from the "Reserve," Contegra is working on a major expansion for World Wide Technology. Earlier in the year the company signed a lease to occupy more than 2 million square feet of industrial space. The plan is to have the building ready for WWT to move in by spring of 2019.
Article courtesy of The Edwardsville Intelligencer