Contegra Breaks Ground on $26 Million Metro East Apartment Complex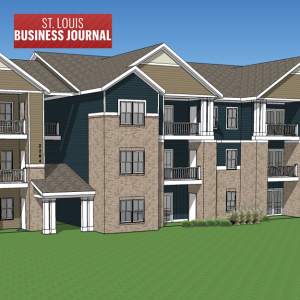 June 12, 2018  |  Construction on the first phase of a 216-unit, $26 million multifamily development from Greenmount Retail Center LLC in Shiloh is underway.
Contegra Construction is slated to complete the first of nine buildings of the development, called Thirteen01 at Hartman Lakes, this fall, with the building available for lease by November.
Phase II will comprise 38 acres with attached and detached one-story villas, and phase III will be an 8-acre commercial development along Frank Scott Parkway, one of the major thoroughfares in Shiloh. The entire development is expected to be completed by July 2019.
St. Louis-based 2B Residential, a division of Balke Brown Transwestern, is leasing and managing the development. The one- and two-bedroom units will start at $950 and $1,250 a month, respectively.
A recent Cushman & Wakefield report said the Metro East saw an 8.5 percent vacancy rate and rent averaging $777 in the first quarter of 2018.
Edwardsville-based Contegra is one of the region's largest privately held companies with $135 million in 2017 revenue. The company also is working on a more than $20 million student housing complex near Southern Illinois University – Edwardsville and the $115 million World Wide Technology expansion project in Edwardsville that TriStar Properties is developing.
Article courtesy of St. Louis Business Journal