West Star Aviation Breaks Ground on 75,700 SF Expansion at East Alton Facility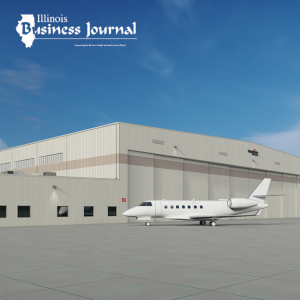 July 7, 2023  |  West Star Aviation officially broke ground on July 6, 2023, on a major expansion project at their East Alton, Ill. (ALN) MRO facility.
Once complete, the expansion will add 75,700-square-feet of space bringing the total facility to just over 500,000 square-feet of hangar, back shop, modification, and paint space. In all, the expansion will include 40,000 square feet of new hangar capacity, 22,300 square-feet of additional back shop space, and 13,400 square-feet of additional storage space.
West Star is working with Contegra Construction and the St. Louis Regional Airport. Site preparation will start this summer, with completion expected in early Spring 2024.
"The current expansion project for East Alton, Illinois will ensure West Star Aviation will be well-positioned to meet our customers' needs. This expansion along with the new hangar in Chattanooga, Tennessee scheduled to open for business at the end of this month, shows our continued commitment to implementing sustainable growth that benefits our customers, employees, and the surrounding communities," said West Star Aviation CEO Jim Rankin.
"The recent rapid growth in the MRO industry has accelerated the need to add additional space to our facilities, allowing us to better serve our valued customers in a timely manner," said General Manager Brian Bauwens, (ALN).
"Contegra Construction is proud to partner with West Star Aviation to lead the design-build process for Hangar 67. This is the third hanger project Contegra has partnered with West Star in the past ten years," said Contegra Construction Project Director Jared Lengermann.
About West Star Aviation
As an industry leading MRO provider, West Star is proud to have been voted the #1 Preferred MRO for the ninth time from 2014-2021 and 2023 in Professional Pilot Magazine's annual PRASE Survey. West Star Aviation specializes in the repair and maintenance of airframes, engines and APUs, avionics installations and repair, major modifications, interior refurbishment, exterior paint, accessory services and parts.
In addition to its primary facilities in East Alton, Ill., Grand Junction, Colo., Chattanooga, Tenn., and Perryville, Mo., West Star Aviation also maintains satellite facilities at Chicago Executive Airport in Chicago, Centennial Airport in Denver, Conroe-North Houston Regional Airport in Houston, Texas, and Minneapolis/St. Paul International Airport in Minneapolis, Minn.
The company also provides complete FBO services for transient aircraft at its East Alton and Grand Junction facilities, as well as AOG/MRT services worldwide. West Star Aviation is an industry leader in technical experience and expertise while providing world-class customer services in all the organization's divisions. For more information visit www.weststaraviation.com or call 800-922-2421.
About Contegra Construction
Based in Edwardsville, Ill., Contegra is one of the Midwest region's largest general contractors. Serving a national customer base predominantly in the industrial market, Contegra specializes in warehouse and distribution centers, freezer/cooler buildings, manufacturing facilities, and aviation. Contegra's capabilities include site development, building development, and owner-driven projects. Learn more at www.contegracc.com.