New Speculative Industrial Warehouse Replaces Demolished St. Louis County Hotels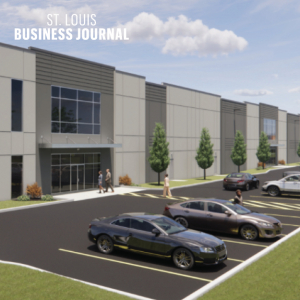 January 18, 2023  |  A local developer is building a new speculative warehouse at the site of two demolished hotels in St. Louis County.
Creve Coeur-based developer Bamboo Equity Partners is building a 76,500-square-foot warehouse called 270 Trade Center on 6.3 acres at 3655 and 3657 Pennridge Drive in Bridgeton.
Construction on the roughly $8 million project officially began last week and should finish by Aug. 1, said Dan Dokovic, managing principal of Bamboo. The general contractor is Edwardsville-based Contegra Construction, which has extensive experience building warehouses in other industrial parks across the region.
The warehouse is being built at the former location of two hotels – Capitol Inn and America's Best Value Inn and Suites – that were demolished last month. Bamboo purchased the sites for $1 million in June 2021, according to St. Louis County records.
Bamboo looked at the site for six months before deciding to demolish the hotels and build there, Dokovic said at a Bridgeton city meeting in 2021. The company was attracted to the site because of its location directly off Interstate 270 and Interstate 70, about five minutes away from St. Louis Lambert International Airport, and the anticipated growth in the need for future industrial space, Dokovic said.
The property is situated between the commercial corridor on St. Charles Rock Road and an existing industrial area, Carrollton Business and Industrial Park, according to a city staff report. Tenants with warehouses and distribution centers less than a mile from the site include Frito-Lay, Hussmann Corp., Materialogic, SSM Health, Summit Distributing and Virbac, according to the brochure.
No tenants are signed for the project yet, but Bamboo and its sister company Intelica Commercial Real Estate are in talks with several prospective tenants, Dokovic said.
Available spaces for lease can range from 12,750 square feet to 76,500 square feet, with a lease rate of $10 a square foot triple net (meaning the tenant pays all expenses, including real estate taxes, building insurance and maintenance), according to the listing. Industrial buildings in the North County submarket are averaging a 2% vacancy rate, according to research as of the third quarter from commercial real estate firm Cushman & Wakefield. The North County submarket has more than 2.4 million square feet of industrial space under construction, according to the research.
Leasing brokers from Intelica Commercial Real Estate are Gary Parker and Dan Merlo, along with Jacque Whisler. The architect for the project is Oakline Studio Architects, which was acquired by Bamboo and Intelica in 2021.