Gateway Commerce Marks 20 Years, 15M SF of Bulk Distribution Development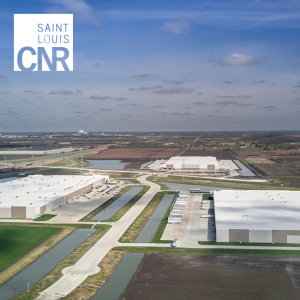 April 19, 2018  |  As Gateway Commerce Center celebrates the 20thanniversary of the arrival of its very first warehouse-distribution tenant, developers of the 2,300-acre bulk distribution park in Madison County, IL are reflecting back on its genesis, its progress and its unique space in the market.
April 2018 officially marks two decades from the park's official opening.
TriStar Companies is the park's developer and has been since day one. The idea for creating the large-scale development emerged from the mind of Rod Thomas, TriStar chairman, according to Michael Towerman, the company's president.
"This was absolutely Rod Thomas' vision from the beginning," Towerman said. "We first began assembling the land in September 1996. The first transaction was signed in April1997, and that was the Dial (Corp.) lease. Dial was our first tenant at the park and opened in April 1998. Dial remains with us today."
With regard to sheer capacity, Towerman says Gateway Commerce Center has built 15.25 million square feet of development with the capability to facilitate a build-out of approximately eight million more square feet. "Our tenant size usually ranges from 350,000 square feet on the low side to 750,000 square feet on the high side, though we have buildings as large as 1.3 million square feet," he said. "We also have some smaller capacity available."
Putting Gateway Commerce Center in context with the St. Louis MSA's various offerings in terms of bulk distribution sites, Towerman says in 2017 approximately four million square feet of new bulk warehouse space was built. "If we (Gateway) got 100 percent of the market, we'd be full in two years, but that's not going to happen. As long as we don't get an economic downturn, our submarket will continue to attract about 500,000 square feet to 750,000 square feet per year, maybe a little bit more. Some readers may think I'm a bit pessimistic, but (former Federal Reserve Chairman) Alan Greenspan said a few years ago that we're living in a period of 'irrational exuberance.' That's kind of how I feel now about where we are. The bell doesn't go off before a downturn. It takes eight months to develop an industrial building, and two to three years to build and lease an apartment complex. If you started (construction) when you thought the market was pretty good, it's almost like, 'Gee, I think I built one or two too many' at some point. That's the speculative nature of what we do," he added.
Amazon's ambitious development of fulfillment centers in Gateway Commerce Center and elsewhere is an anomaly rather than the norm, according to Towerman.
"While e-commerce has driven a lot of construction and leasing over the last four years, if you take Amazon out of the St. Louis market, you take out 1.5 million square feet to 1.9 million square feet – or about 2.75 million square feet of absorption – out of the equation," he said. "If you subtract that number out of what has been built in St. Louis over the last couple of years, you'd see a very different picture."
One commercial construction company that has and is building a significant amount of product in Gateway Commerce Center is Edwardsville-based Contegra Construction. The firm has built more than 4.8 million square feet in Gateway Commerce Center, and by the close of 2019, the contractor will have completed 6.8 million square feet in the park. Contegra President Eric Gowin says his company has built four bulk distribution projects in a row within Gateway Commerce Center and is the shell building contractor for two million-square-foot buildings that are currently under construction within Gateway for World Wide Technology, both of which will be completed next year.
"We've been building and leasing these projects one at a time for TriStar," Gowin said. "We adjust each for the site and according to marketplace demand at the time. Each is similar in size and scope. We've been replicating what's been working in meeting the demand."
Towerman says there's no doubt that e-commerce is the key driver. A still-expanding U.S. population of consumers buying online and expecting their goods to be delivered more quickly that ever before adds up to the certainty of a flourishing demand for warehouse space well into the future, he added.
"Another factor is aging warehousing stock," Towerman said. "In the Northeast, there's an old supply of warehouse space," said Towerman. "The average age of warehouse facilities in the Northeast is much older than in the Southwest or Midwest. Thus, those older facilities don't work as well. They don't offer the specifications necessary for e-commerce such as 36-foot ceiling clearance heights, compared to 28-foot heights which had previously been the norm." The older buildings in the Northeast, built in the mid-1990s, have ceiling heights ranging from as low as 15 feet to 22 feet, he said.
Towerman references a study performed in September 2016 by real estate logistics expert Prologis that reveals online retailers need approximately 1.2 million square feet of warehouse space per every one billion dollars of online sales – three times the distribution center space required for traditional brick-and-mortar retailers. According to Prologis' research, there are four unique business characteristics of online order fulfillment that are driving this space requirement: extensive product variety, greater inventory levels, larger outbound shipping space requirements and increased reverse logistics (also known as process returns).
"We (Gateway Commerce Center) will continue to see an increase in warehouse demand until we hit a saturation point," Towerman said. "I think as long as there are no macroeconomic eruptions – such as wars and trade wars – I think we'll see continued expansion in industrial bulk distribution warehouse development. We're not a port town, we're not Atlanta or L.A., but we get our share of development. We have our place in the supply chain but we'll never see the peaks and valleys."
According to the State of Illinois' Dept. of Commerce & Economic Opportunity, Gateway Commerce Center's enterprise zone – an economic incentive sanctioned by the state, Madison County and local municipalities that offers companies to apply for property tax abatement, sales tax exemption and more as an incentive to locate, expand or retain their presence in the park – is one of the most successful enterprise zones in the state, as measured by total number of jobs created and real estate investment.
Article courtesy of Saint Louis Construction News and Review