Contegra Construction Targeting March 2019 Completion for $6M Ironworks Retail Center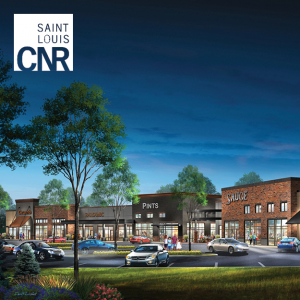 November 29, 2018  |  Come March 2019, a retail center will open in Edwardsville, Ill. designed to capitalize on a well-travelled pedestrian and bike pathway that connects communities throughout Madison County.  The $6 million IronWorks retail center is being developed and built by Contegra Construction Co.  Its layout and orientation to the Madison County Transit Trail is an example of an emerging national trend detailed this fall by the Urban Land Institute (ULI) St. Louis in its presentation on The Path to Trail Oriented Development.
"In developing this site, we wanted to optimize its proximity to the greenway," said Contegra Project Executive Jim Mundy. "It energizes a feeling of community and has attracted the interest of retailers who thrive in such environments." The Madison County Transit Trail traverses 85 miles of natural surroundings that can be explored by bicycle, rollerblade or on foot.
Located on Plum Street between Center Grove Road and Governors' Parkway, the first phase of IronWorks includes a two-building, 22,000-square-foot retail and restaurant enclave and is 60 percent leased. Tenants include Sugarfire Barbecue, Global Brew, and Strange Donuts.  A third building is planned at a later date. For leasing information, contact Evan Barnett at Pace Properties at (314) 968-9898
Designed by Gray Design Group, the retail center's Ironworks theme is expressed in brick and heavy structural steel components.  The facades are tilt up construction with brick inlays.  Both buildings are connected by a courtyard and provide bicycle parking with a direct trail connection
Joining Contegra and Gray Design on the project are Thouvenot, Wade & Moerchen, civil engineer, and Alper Audi, structural engineer.
Based in Edwardsville, Ill., Contegra is one of the St. Louis area's largest general contractors and serves a national customer base that includes industrial, institutional, municipal, medical, multi-family, office and retail projects.
Article courtesy of St. Louis Construction News and Review