Contegra Completes 13,498 SF Credit Union in St. Louis Region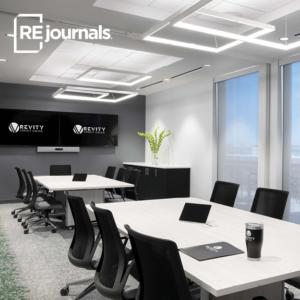 November 16, 2023  | Revity Credit Union is celebrating its rebranding with the opening of a full-service financial institution in Edwardsville, Illinois, in the St. Louis market.
Built by Contegra Construction Co., the 13,498-square-foot credit union is the first new facility to debut under the Revity name as the credit union transitions from its founding 82 years ago as GCS Credit Union.  In 1941, the credit union was just a single office in Granite City, Illinois, serving mill workers.  Today, it is a full-service financial institution serving 18 counties in the Metro East and Southern Illinois.
Contegra teamed with Gray Design Group, a St. Louis-based architecture and interior design firm, to bring Revity Credit Union's vision to life. It has a prominent location at 2317 Plum St. in the Ironworks Retail Plaza, which was also built by Contegra. Gray designed the exterior with a two-toned brick façade accented by dark metal cladding and solar-controlled tinted glass wrapped around the building, offering a beautiful aesthetic view from every angle and optimal sunlight inside the building.
Interior space includes a lobby and teller area, along with office space and conference rooms that create a modern environment.  It also includes stylish finishes, and LED lighting throughout and lower-level storage. Private offices on each floor are equipped with Falkbuilt demountable glass partitions to maximize space and allow reconfiguration for future needs.
The credit union offers two drive-through banking lanes and an ATM. It recently launched a new web site – RevityCU.com – and a new mobile app that delivers convenient digital credit union services to its members within its 18-county field of membership.
Joining Contegra and Gray Design on the project were Alper Audi (structural), Arch Fire Protection, Begman Roscow (plumbing), Icon Mechanical, Lowery Electric, TWM (civil) and Facilitec (furniture).