Contegra Completes $5.7M Aquaport Renovation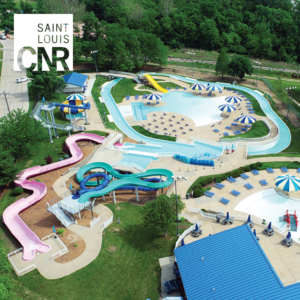 May 25, 2021  |  On May 29, 2021, you'll be able to "hang ten" riding a compact and self-contained surf simulator at the Aquaport water park in Maryland Heights, Mo. when it opens for the summer.  It's just one of the many improvements made by Contegra Construction Co. to add amenities, save on operational costs and improve water quality for the St. Louis suburban water park which debuted in 1998.
Joining Contegra on the $5.7 million project were Hastings + Chivetta, architects, Capri Pools & Aquatics, pool renovations, and Counsilman-Hunsaker, design and engineering of the pool renovations.
The Aquatic Development Group (ADG) Flowrider is a double rider, allowing two surfers to ride the wave at the same time.  The Flowrider is supported by a steel frame and a cast-in-place tank for water, an equipment room, chemical storage and electric room. See the video of the Flowrider in use.
Other improvements made by Contegra include:
Completely renovating family restrooms, changing areas, food preparation and concessions, offices, equipment rental, and first aid rooms.
Constructing all new cast-in-place admissions kiosks with a covered patio area.
Adding St. Louis Cardinal-themed baseball hat and bat to the children's pool and creating a more universal ADA access;
Improving water quality throughout the park with separate water filtration and chemical systems for the leisure pool, lazy river, children's area, and Flowrider. The lazy river also features a weir wall system that functions as a giant skimmer to clean the water surface and improve flow to the filter system for a faster turnover rate; and
Repainting all pools with a Tnemec epoxy paint to better protect foundations from moisture, chemicals and seasonal temperatures.
The project was the first major renovation of Aquaport since the addition of the Extreme Bowl slide in 2006.  Other attractions include the Family Fun Pool, Lazy River, Flume Slide, Racer Slide, Rapids Slide and the Tube Slide. Parking is free at Aquaport. Group rates and private rentals are available with the ability to rent the entire facility or just the FlowRider feature.
Located at 2344 McKelvey Road, Aquaport is operated by the City of Maryland Heights Parks & Recreation Department. Aquaport is open 12:00-7:00 p.m. daily with special hours of entry for Maryland Heights' residents with a current Privilege Card and season pass holders. General admission for adults is $15, youth/seniors is $10 and ages 3 and under are free. A pass to ride the FlowRider is an additional $3.
Based in Edwardsville, Ill., Contegra is one of the St. Louis area's largest general contractors and serves a national customer base that includes industrial, institutional, municipal, multi-family, office and retail projects.  Its capabilities include building developer- and owner-driven projects and site development.
Article Courtesy of Construction Forum STL