Contegra Construction featured photos of new Save-A-Lot headquarters
Save-A-Lot has transformed a 162,000-square-foot space at the former Northwest Plaza in St. Ann into a new headquarters building that will house about 500 employees.
The company invested $8 million to revamp the space, located at 500 Northwest Plaza Dr., according to Chief Investment Officer Kevin Proctor. The total cost for the project was $20 million, he said. Save-A-Lot plans to hire at least 60 additional employees once the move is finalized.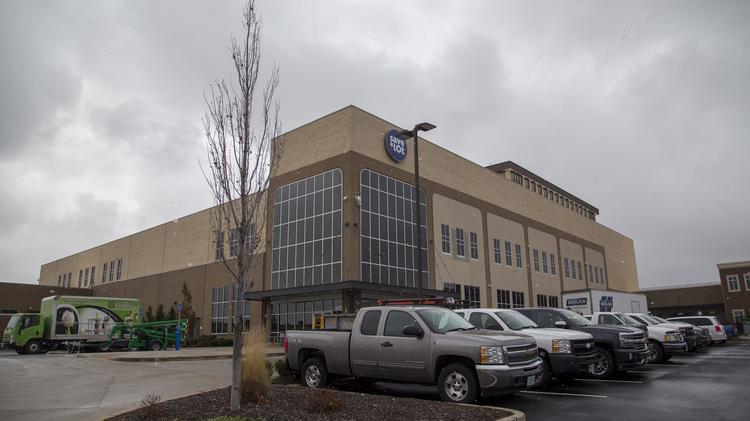 Contegra served as the general contractor for the St. Ann location, while Gensler of Chicago served as the architect.
The new headquarters includes a test kitchen, a model test store, a IT innovation lab and amenities such as a cafe, a library, a fitness center and a yoga studio for employees.
Other tenants at The Crossings include Charter Communications, which invested about $16 million for its customer operations center there, Starbucks, Menards and St. Louis County government services.
In September, the St. Louis County Council removed from its agenda a bill that would have given Save-A-Lot subsidies for its move from Earth City to St. Ann. The subsidies included Chapter 100 bonds and a 15-year tax abatement at 50 percent on personal property. The state pledged up to $3 million through the Missouri Works program and $85,000 through Skilled Workforce Missouri.
At the time, Chris Almeida, a spokesman for Save-A-Lot, told the Business Journal the company was "disappointed" by the development, but that construction of the new headquarters was already underway. St. Ann took action to initiate the subsidies the council withdrew.
Bill Moran opened the first Save-A-Lot in 1977 in Cahokia, Illinois, which later grew into a national chain with more than 1,300 locations. In 2016, it was sold by Supervalu Inc. to Canadian private equity firm Onex Corp. for $1.4 billion.