Flexibility in Cold Storage Facilities Heats Up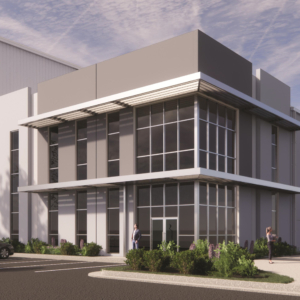 Drive by the industrial parks in Columbus, Ohio and you'll see subtle signs of a growing number of cold storage facilities built by Contegra Construction. Notice the 50-foot tall warehouses topped by self-contained mini penthouses hosting refrigeration systems.  They define not only e-commerce driving on-demand home grocery deliveries, but co-location storage for multiple businesses, including restaurants, food processors, food stores and others.  Cold storage facilities now serve many with flexibility borne from thoughtful design.
Two Contegra projects in Columbus are emblematic of the trend – a 163,000-square-foot speculative cooler/freezer facility under construction near Rickenbacker Airport and an identical project that will launch this summer at WestBelt West Commerce Center. Both feature 50-foot clear height, 29 dock doors, 30,000-square-feet of cold dock and, most importantly, freezer storage at temperatures as low as -10 degrees F. with flexibility to adjust temperatures higher as needed including cooler storage with eight thermal bays and a cold dock.
The optimal flexibility stems from Contegra's design/build process.  An all steel structure is wrapped with insulated metal panels specially designed for cold storage.  The steel structure in the freezer is designed to accept future thermal break demising walls should a prospective tenant decide to split the space for different temperatures or multiple tenant storage. Meanwhile, composite insulated concrete panels with a steel roof structure make up the 30,000-square-foot cold dock space.  The cold dock is 28-foot clear height on which the refrigeration equipment sits to provide chilled air for the freezer.
Topping these structures are 10-foot-tall, eight-foot-wide and 24-foot-long mini penthouses where eight highly flexible refrigeration systems are housed.  The refrigeration systems can regulate a wide range of temperatures for freezer and cooler storage. The ductwork from the refrigeration units on the roof penetrate the sidewall of the freezer and blast air throughout. Best of all, the penthouses offer easy access for maintaining refrigeration systems.
A specialized floor slab system is equally important to avoid "frost heave" that can create major issues with the buildings' structural integrity and climate control. The solution is to utilize a glycol heat recovery loop to recycle the heat from the refrigeration equipment. A 10-inch thick slab is built on six inches of rigid insulation and beneath that is a three-inch specialized concrete mud-slab through which heated glycol is circulated.
Finally, cold storage requires a robust electrical infrastructure. These two projects are powered by 3,000 amp services, two-thirds of which is dedicated to refrigeration systems.  In addition, separate metering of refrigerant to each penthouse and a remote electrical panel is used to track power usage of each tenant.
Cold storage has grown immensely to serve multiple purposes. Contegra is currently building a 15,000-square-foot cooler/freezer for Sensient Technologies in Sauget, Ill. that will be used to store dyes and colors for food products. The pharmaceutical industry is also tapping Contegra for cold storage facilities.  Cold storage that meet the needs of businesses and third party logistics firms is certainly heating up and so are the ideas to give them optimal flexibility.
Story Courtesy of Steve Houston, Compass Communications